Australian Brushwood Fencing Products
Our range of high-quality brushwood fence panels and accessories
Traditional brushwood fencing
The core of our product range at Bowman Brush. Our 100% plantation-grown brushwood fence panels are suitable for residential applications through to large-scale commercial developments.
Custom sizing, feature panels, and accessories
If you're looking for something different, we offer an extensive range of distinctive brushwood fencing options and accessories. Our range includes custom panel sizing, unique brushwood products, Colorbond® framing, decorative feature panels, and various capping options.
Our decorative feature panels can be made with tailored cut-outs (including decorative inserts), feature openings (which can include planter boxes), arches, through-the-fence letterboxes, or custom made to your specifications (limitations apply).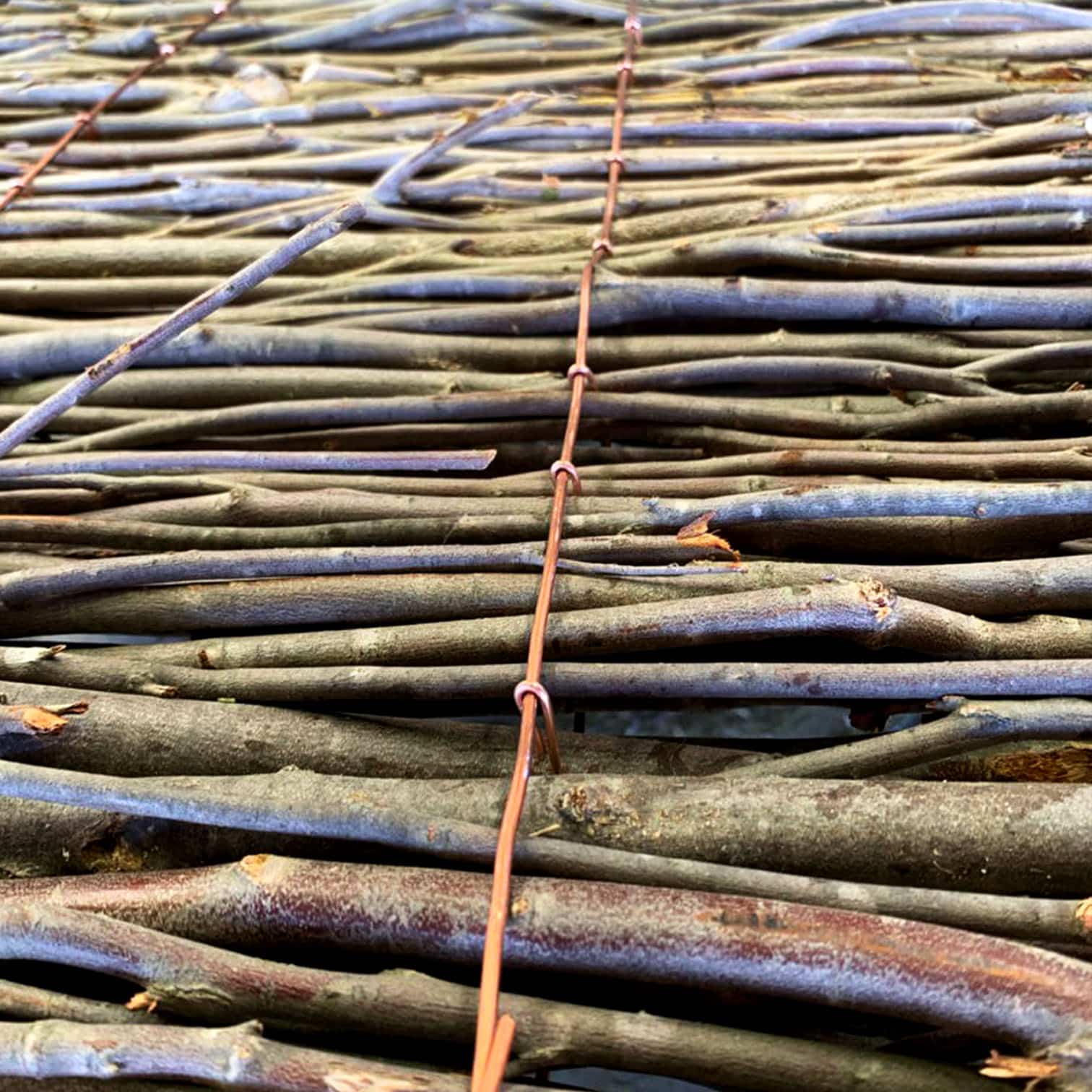 Part of our expanding Enclosures range, our Wheelie Bin Enclosures are perfect for hiding your unsightly bins. They feature integrated locking systems for your peace of mind and are available in single, double, or triple bin sizes. Suitable for residential and commercial purposes.
If you are looking for high-quality brush horse jumps, the Bowman Brush range includes premium horse jump inserts made from our 100% plantation-grown brushwood. Made to your specified widths, the height of the brush is easily customisable for your required jump height. Our premium brushwood horse jump inserts are used in State-level competitions and are ideal for training. Our products were also used at the Equestrian in the Park event held in Perth's Burswood Park.
Brush logs - conservation product
Our brush logs are used to make brush walling for foreshore restoration projects to minimise the impact of wave erosion and allow vegetation to re-establish. Each log is bound together with galvanised steel wire and hydraulically pressed for high compaction to ensure durability and longevity. Logs are 300mm in diameter and 2.4m in length.
| Title | Value |
| --- | --- |
| Thickness | 40mm, 50mm, 60mm, 65mm |
| Heights | 850mm, 1060mm, 1200mm, 1500mm, 1800mm, 2000mm, 2120mm |
| Lengths | 900mm (gates only), 1100mm, 1200mm, 1800mm, 2000mm, 2200mm, 2400mm |
Our distribution partners
Bowman Brush has been working with trusted distributors across Australia for many years. If you are looking to buy our premium brushwood fence panels, we recommend contacting one of our distribution partners.
Ausbrush Panels Pty Ltd, Australia Wide
Melbrush Pty Ltd, Victoria
Countrywide Pools, Western Australia
Our expert team can help you find the perfect design for your project. With our complimentary solution-focussed service, you will be able to achieve the look and functionality you want.
You may choose to install your own Bowman Brush brushwood fence. Our friendly, knowledgeable team is on-hand to help with complimentary support and advice to guide you through the process.
Brushwood fence panels are a long-term investment. With our expert advice and guidance, you will be able to keep your brushwood fence looking fresh for years to come.
If you choose to install your own Bowman Brush brushwood fence, our handy Installation Guide contains detailed step-by-step instructions to help you along the way.
Trusted installation partners
For the best result with your new Bowman Brush brushwood fence, we recommend using one of our trusted Installation Partners for your installation.
Quality runs through everything we do at Bowman Brush. We are proud to be the only brushwood fencing company in Australia using the highest-grade, 100% plantation-grown brushwood in our products. We select only the finest seedlings for revegetation and expansion at our plantation, which results in a superior standard of brushwood. We also developed our own machinery to ensure a consistent high-quality in the manufacture of our products.
Interested in Brushwood Fencing? Let's Chat.