We provide solution development, installation support and maintenance advice.
If you need help to get the most out of our brushwood fence panels and screening products, we are here for you. Our experienced team offers a complimentary solution-focussed service to assist you with your house fence design to create a modern landscaping masterpiece.
Our products are used throughout Australia by commercial developers, housing estates, holiday resorts, caravan parks, and zoological parks, to name a few. From new estates to public open spaces, we offer custom fencing solutions to suit your requirements.
Got an idea for a DIY project? Our standard brushwood fencing kits could be the perfect solution. We offer a complimentary service with our kits to help you create a customised plan for a unique look or for areas with tricky spaces.
Our handy Installation Guide contains detailed step-by-step instructions to help you install your Bowman Brush brushwood fence panels. Our team is also available to assist you with support and guidance at any stage of your installation.
Depending on the outcome you wish to achieve, your Bowman Brush brushwood fence panels can be installed in a variety of ways. It is important to choose the right installation method to suit your application.
For more details on the installation of fencing components and accessories (post roll, end roll and roll top installation) visit our Installation Guide Page.
Essential first steps toward installing your brushwood fence
Contact your local council for fencing regulations applicable in your area.
Choose your installation method, whether it be in-line, post and rail, or framed.
Measure the length of your fence or screening area, noting corners and gate entries.
Determine the height and width for the panels you need.
Choose your panel thickness from our range:
          a. Screening Only (40mm)
          b. Standard (50mm)
          c. Premium (60mm)
          d. Super thick (65mm)
Note: greater thickness allows for better noise reduction
Our brushwood fence panels feature a long life span and, when installed correctly, require very little maintenance. The panels naturally change colour as they cure over the first year after installation. From there, the colour will settle and retain its look for the lifetime of the product. Keeping them looking good is as simple as preventing soil build-up on the base of the panels and replacing the roll top capping every 10 to 12 years.
Bonus maintenance tip: A quick spray with a 50/50 solution of linseed oil and turpentine once-a-year year helps to keep your Bowman Brush brushwood fence looking like new.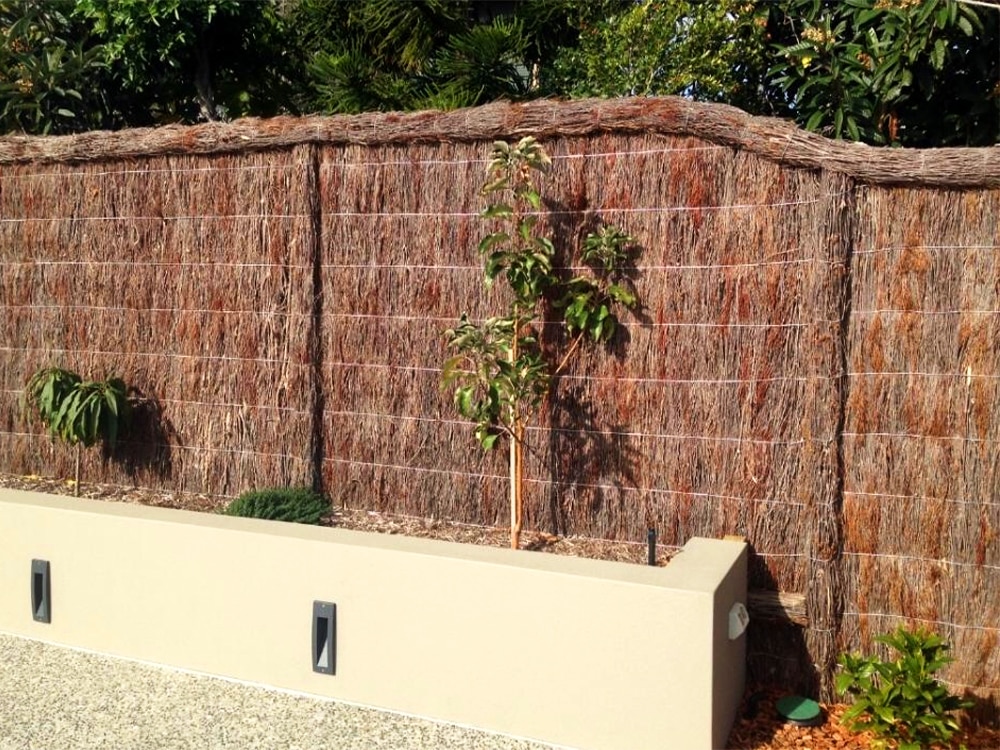 Interested in Brushwood Fencing? Let's Chat.