The Benefits of Brush Fence Panels
Why a brushwood fence is the ideal choice for your property
Why Choose a Brush Panel Fence for Your Property?
Aside from a beautiful, natural aesthetic, our premium brush fence panels offer many benefits over traditional fencing materials. They absorb noise, act as an effective windbreak, and reduce glare from light reflecting off your fence. They also do a great job of reducing the heat-pool effect in your yard, synonymous with Colorbond® and Super Six fencing. Brushwood fence panels are also the ideal choice to compliment historic and heritage properties.
Our premium brush stick fence panels offer excellent sound absorption due to the thick layers of natural material we use in each panel. Unlike other types of hard fencing, our panels muffle and trap noise instead of bouncing and reflecting it. In small backyards where noise can be a problem, brushwood fencing is the ideal solution.
Sustainability is at the heart of everything we do at Bowman Brush. Our family owns an 1100-acre property in the Western Australian Wheatbelt region, where we grow the native melaleuca brushwood used in our products. We are proud to be the only brush fence panel manufacturer in Australia using exclusively plantation-grown brushwood.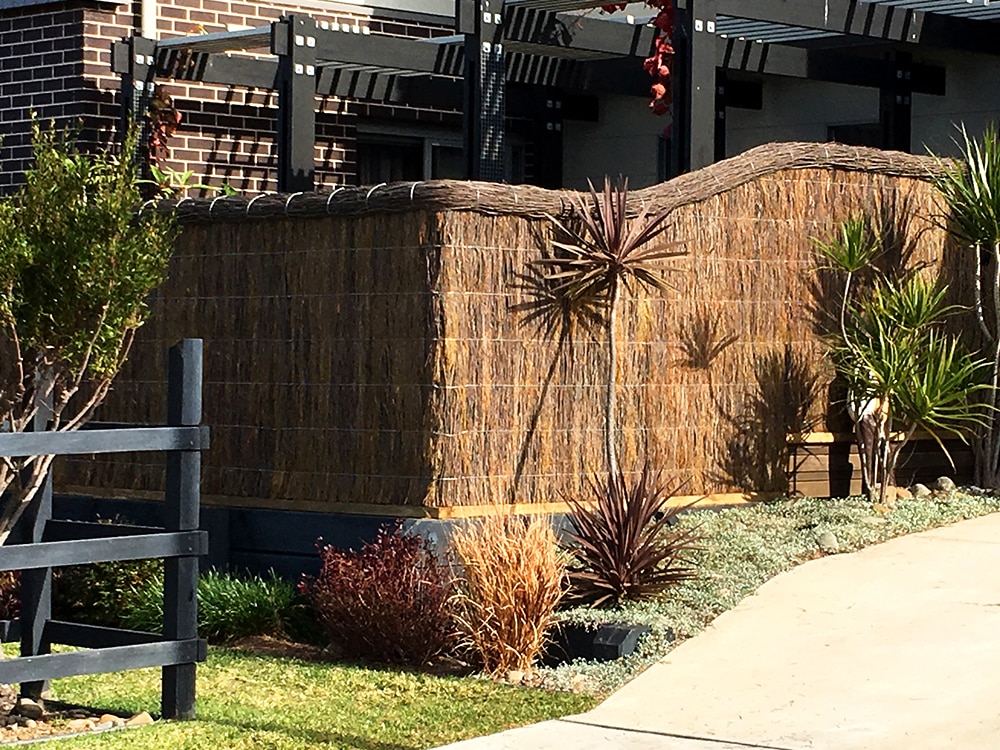 Our manufacturing process involves tightly compressing brushwood sticks to create dense, solid panels. Each panel is held together firmly with either heavy-duty galvanised wire or stainless-steel wire for added longevity or seaside applications. A correctly installed and maintained Bowman Brush brushwood fence can last 20 to 30 years, making it an excellent choice for durability and longevity.
Most plants and animals thrive in cooler environments. Being significantly cooler than traditional fencing materials, your Bowman Brush brushwood fence helps to keep the heat out of your yard. This can reduce stress on your plants and prevent your soil from drying out. Your pets will be happier out of the heat, too!
Keeping your brush panel fence looking good is as simple as preventing soil build-up on the base of the panels and replacing the roll top capping every 10 to 12 years. If you are looking to revitalise your brush fence panels further, a quick spray with a 50/50 solution of linseed oil and turpentine once-a-year is all you need.
Old-fashioned, hand-packed brush stick fences are known to sag due to a lack of internal support and the finer materials rotting away at the base. When installed correctly, our panels will not rot or sag and, being termite-resistant, will remain structurally sound and pleasing to the eye for years to come.
Our range of brushwood products offer practical and affordable solutions to dress up your outdoor area or cover up your unsightly standard fencing for a more natural look and feel. They are perfect for brush fence gates or for hiding your shed, clothesline, pool pump, or other items that detract from the overall appearance of your yard.
At Bowman Brush, we love playing with sticks. Every brushwood panel contains hundreds of individual sticks, with each one harvested, bundled, dried, woven, and compressed at 1200psi of hydraulic pressure for a high-density result. We developed and manufactured our own machinery to ensure a consistent density and quality in all our products.
Interested in Brushwood Fencing? Let's Chat.